KATHMANDU, MARCH 03
Federal lawmakers, parliament secretariat staffers, ministers and senior leaders of Nepal took their first jab of the vaccine against Covid-19 at Minbhawan based Civil Hospital, on Wednesday.
Health Minister Hridayesh Tripathi, Speaker of the House of Representatives Agni Prasad Spakota, Co-chairs of NCP's Dahal-Nepal faction Pushpa Kamal Dahal and Madhav Kumar Nepal, among others were inoculated today.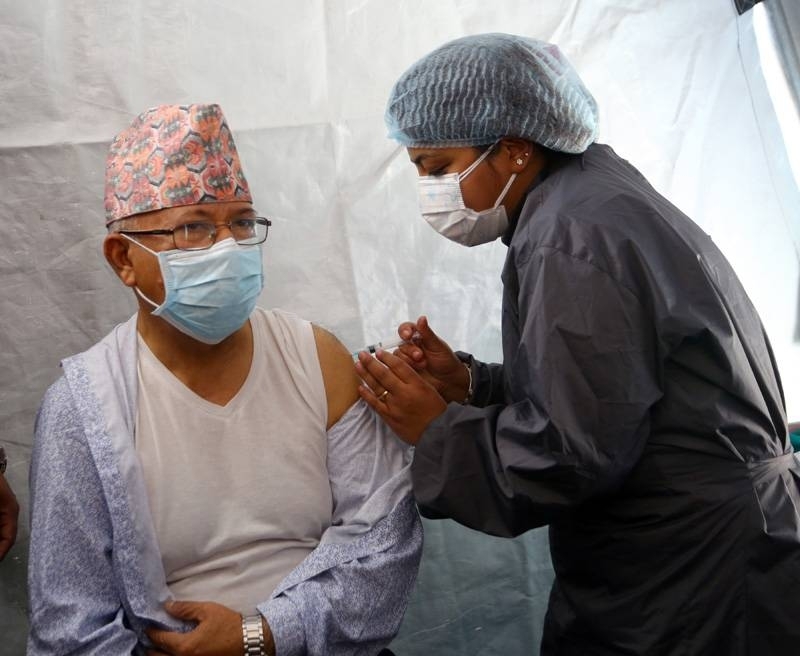 President Bidya Devi Bhandari, on Monday, summoned the first meeting of the House of Representatives for March 7 after the February 24 verdict of Supreme Court to reinstate the Lower House of federal parliament.
The parliamentarians are being vaccinated in a bid to be prepared for the upcoming HoR session.
The drive was enforced by the Ministry of Health and Population as a fight against Covid-19 -- the first phase of which saw frontline health and sanitation workers being inoculated which was followed by the vaccines being administered on government employees, journalists, security personnel, among others.
India-manufactured Covishield is being used by the Ministry of Health for the vaccination drive. Covishield is the local name for the India-manufactured Oxford-AstraZeneca vaccine developed in the UK.