KATHMANDU, JULY 28
Nepal observed as many as 3,840 coronavirus infections on Wednesday, of which 2,634 people tested positive for the infection through PCR testing while 1,206 people were detected to have been infected through antigen test.
Following this, the coronavirus caseload has reached 688,307, as per the Ministry of Health and Population's records.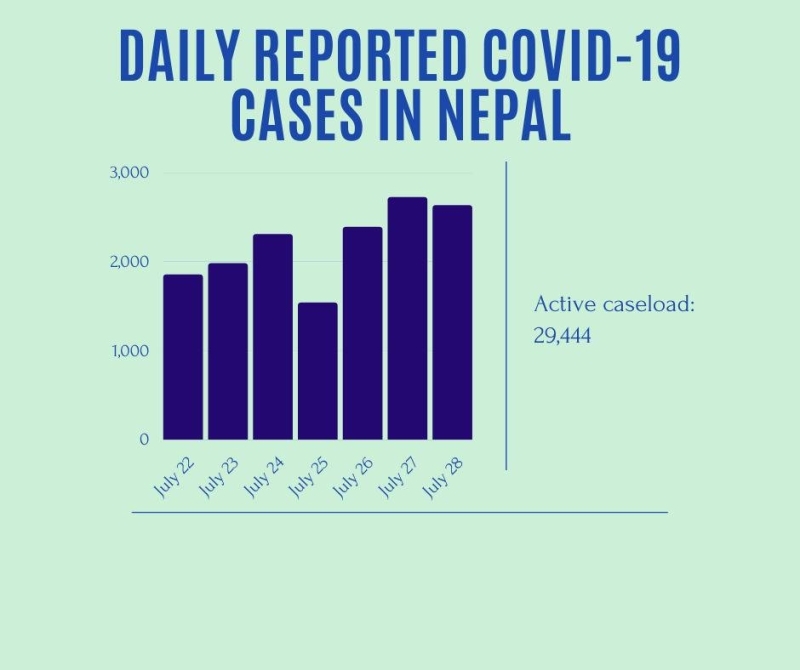 Meanwhile, the total coronavirus recoveries stand at 649,072 with 1,993 discharges logged today. On the other hand, the countrywide Covid-19 mortality toll increased to 9,791 with 33 more fatalities.

As per the latest data provided by the health ministry, 15,808 total tests were conducted in the last 24 hours of which 10,886 were PCR tests while 4,922 were antigen tests. With this, a total of 3,574,864 PCR tests have been carried out till date.
Nepal's Covid-19 recovery rate stands at 94.3 %, while the fatality rate stands at 1.5%.
The country's active Covid-19 case count currently is 29444 as opposed to 28,836 on Tuesday.
As many as 559 infections surfaced in the capital today while Lalitpur and Bhaktapur recorded 206 and 94 respectively. Kathmandu records the highest district total while Kaski with 316 has second highest infection. Similarly, Lalitpur is third in line.
So far, a total of 5,047,355 people has received coronavirus vaccine across the country, of which 3,544,043 have received the first dose while only 1,503,312 individuals have been inoculated with both the doses and are fully vaccinated.
Currently, there are 349 individuals in various quarantine facilities across Nepal.
On Tuesday, Nepal's coronavirus case count had reached 685,673 with 2,726 more people testing positive for the infection.
Globally, over 195 million people have been infected by the novel coronavirus while 4.1 million people have lost their lives to the disease.
Likewise, over 177 million people have recovered while more than 14 million cases are still active.