Water level in Marsyandi, Melamchi rivers rise yet again
KATHMANDU, JULY 1
Various parts of the country are currently witnessing heavy and incessant rainfall for the past few days, causing rivers to swell and water levels to rise.
In this regard, the Department of Hydrology and Meteorology has issued a warning to ten stations at 12:50 pm -- Bimalnagar, Bandipur, Rainastar, Sakhar at Tanahun, Chisapanigadi, Bharatpur Airport, Shilinge, Narayani Field Office, Shaktikhori and Trishuli Kali Khola -- to maintain high vigilance.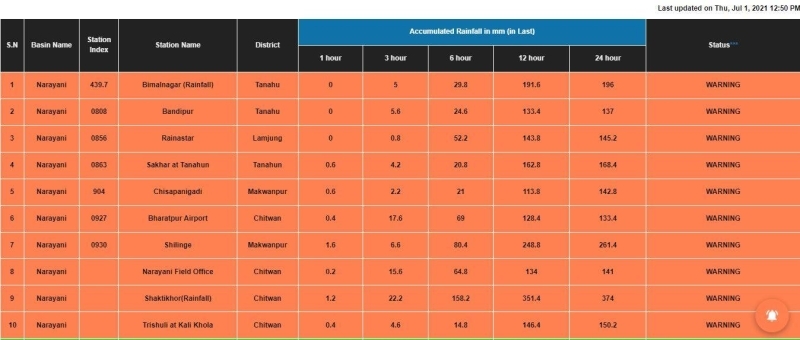 Likewise, according to the Flood Forecasting Division, Gharedhunga, Rainastar, Bimalnagar and their nearby areas in Lamjung have been receiving heavy rainfall for the last eight hours and as such water level in Marsyandi River has crossed warning level and is continuing to swell.
People living around those areas have been requested to remain alert and watchful of the situation by the authorities.
असार १७, बिहान ८:३० बजे

लमजुङ जिल्ला घरेढुङ्गा, राइनासटार, बिमलनगर र आसपासका क्षेत्रमा पछिल्लो ६ घण्टा भारी बर्षा, बिमलनगरस्थित मर्स्याङ्गदी नदीमा जलसतह सतर्कता तह पार गरेको र बढ्दो रहेकोले, नदी तटिय क्षेत्र तथा होचा स्थानमा डुबान हुन सक्ने भएकोले सतर्क रहौ। pic.twitter.com/NMS2B5GRYE

- Nepal Flood Alert! नेपाल बाढी सूचना! (@DHM_FloodEWS) July 1, 2021
Similary, Shermathang, Dhaap and Chauara in Sindhupalchowk district are also observing medium to heavy rainfall since yesterday evening and the situation is expected to continue today.
It was learnt that Melamchi rivulet has already witnessed a rise in its water level following torrential rains causing fear among the local residents.
The rainfall that continued since Wednesday afternoon has put the settlements from Helambu to Melamchi at risk, yet again.
Nepal Police has cautioned the general public to adopt preventive measures with the rise in the water current.
At present, locals residing in the downstream areas have been alerted to shift to the secure places with the potential risk of floods.
Moreover, the division has warned everyone to remain vigilant and keep away from riverside areas or downstream areas of the rivulet which are more vulnerable to floods.