Death toll surpasses 9800
KATHMANDU, JULY 29
Nepal, where daily new cases of the coronavirus have been on the rise, witnessed 2,335 new cases on Thursday. With the latest rise, the country's caseload has gone up to 690,642.
With a steady rise, the total coronavirus recoveries stand at 650,445 with 1,373 discharges logged today. On the other hand, the countrywide death toll due to the disease climbed to 9,807 with 16 new fatalities.

Similarly, antigen tests have confirmed 1,030 positive cases in the past 24 hours. The total number of single-day infections from both the RT-PCR and antigen tests amount to 3,365.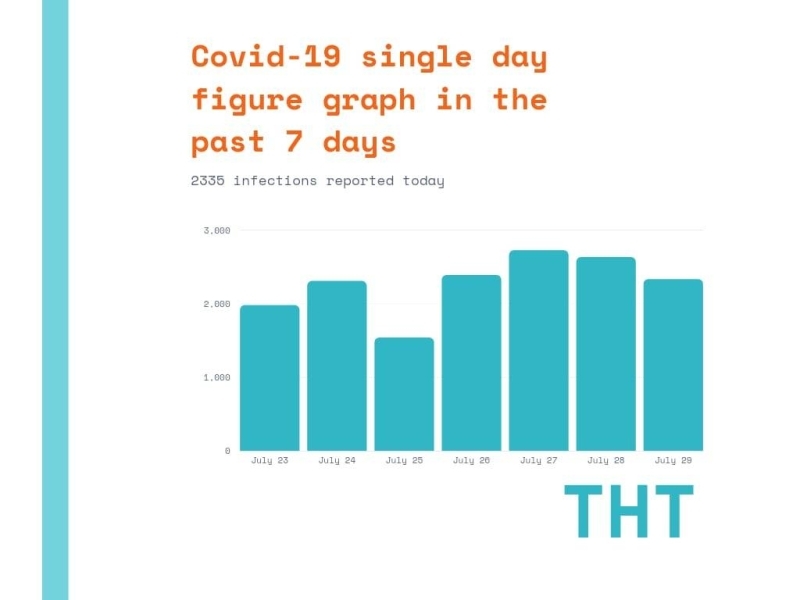 As per the latest data provided by the health ministry, 14,242 total tests were conducted in the last 24 hours of which 9,555 were PCR tests while 4,687 were antigen tests. With this, a total of 3,584,419 PCR tests have been carried out till date.
Nepal's Covid-19 recovery rate stands at 94.1 %, while the fatality rate stands at 1.5%. The country's active Covid-19 has risen to 30,390.
As many as 597 infections surfaced in the capital today while Lalitpur and Bhaktapur recorded 155 and 108 respectively.

So far, a total of 5,199,536 people have received coronavirus vaccine across the country, of which 3,650,733 have received the first dose while only 1,548,803 individuals have been inoculated with both the doses and are fully vaccinated.
Currently, there are 379 individuals in various quarantine facilities across Nepal.
On Wednesday, Nepal's coronavirus case count had reached 688,307 with 2,634 more people testing positive for the infection.
Globally, over 196 million people have been infected by the novel coronavirus while 4.2 million people have lost their lives to the disease.
Likewise, over 178 million people have recovered while more than 14 million cases are still active.