KATHMANDU, JULY 21
Retired Major General of Nepali Army Purna B Silwal is all set to release his first book about navigating political, military, economic and diplomatic landscape of Nepal.
His book titled Nepal's Instability Conundrum will be available for readers from July 25.
According to the author, the book captures his examination of the instability conundrum in the country through five drivers -- founding philosophy, national interests and threats, domestic political culture, civil-military relations, state response to armed insurgency, and interest and Nepal strategies of external powers.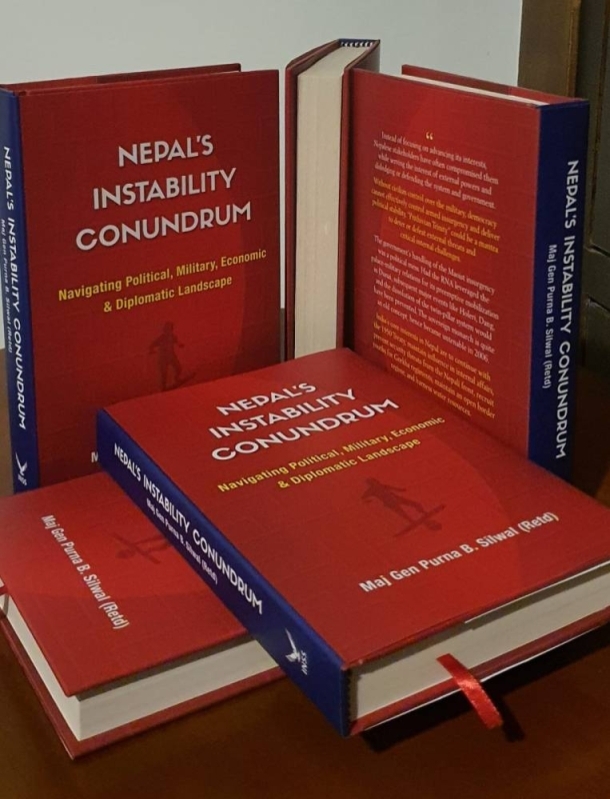 "Our country has experience possibly all known political systems but the desired progress and sustained stability is yet to be achieved. I attempt to cross-check and and discuss the underlying reasons and intricacies regarding the same in this book," General Silwal adds.
The book, which is also the first publication of Institute of National Security Studies (INSS) has been priced at NRS 1295.
Readers can find the book at the following bookstores - Mandala Book Point, Jamal; Book Paradise, Jamal; Educational Book House, Jamal; Ratna Pustak Bhandar, Putali Sadak; Ekta Books, Thapathali; Wishdom Books Bhanimandal, Jawalakhel; Patan Book Shop, Patan Dhoka.
Likewise, it can also be ordered online via thuprai.com and kitabyatra.com.
About the Author
Major General Purna B Silwal (Retd) PhD, MA, MS, MDS, NWC, PSC, has served in Nepali Army for three and a half decades. He worked as military advisor in the permanent mission of Nepal to the United Nations in New York (2008-11); UN Peacekeeper and Observer in Lebanon and D.R. Congo; Aid-de-Camp to the Chief of Army Staff; analyst at the National Security Council Secretariat; Directing Staff and Commandment of the NA Command and Staff College; Infantry Brigade Commander; and Division Commander.