KATHMANDU, MARCH 28
Tribhuvan Army Football Club and Kyrgyzstan Olympic Team played a goalless draw in a friendly match here at the Dasharath Stadium today.
TAFC are currently preparing for the AFC Cup preliminary round match and they will face Sri Lanka Police at the Dasharath Stadium on April 7, while the Kyrgyzstan Olympic Team was here to participate in the Three Nations Cup. Kyrgyzstan were eliminated from the Three Nations Cup with one point.
They faced a 1-0 defeat at the hands of Bangladesh and played a goalless draw against hosts Nepal. Their exit was confirmed on Saturday after Nepal and Bangladesh played a 0-0 draw in the last league round match.
The hosts will face Bangladesh in final on Monday.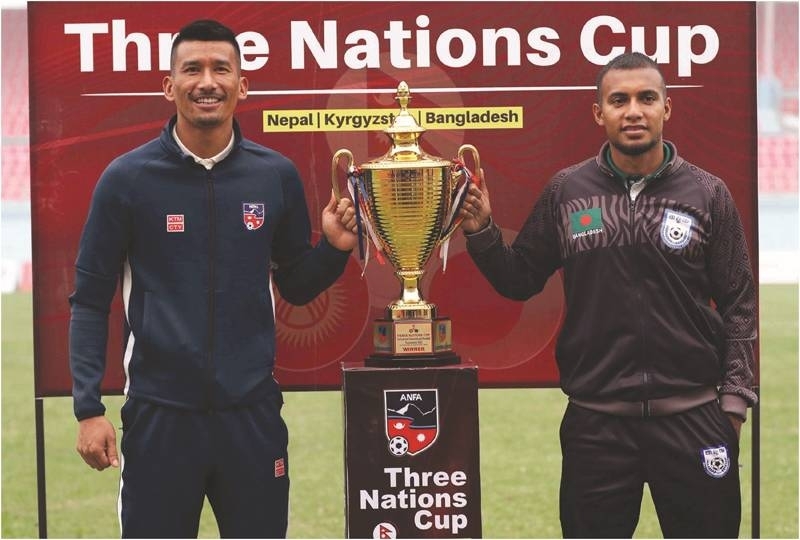 The TAFC, who are scheduled to face Sri Lanka Police team in 10 days time on home soil, took the opportunity to play a friendly match with the Kyrgyzstan Olympic team. But the departmental side failed to find the back of the nets despite keeping the visitors under pressure throughout the match.
The TAFC created an opportunity on the first minute of the match but Kyrgyzstan goalkeeper Priadkin Artem made a brilliant punch to save Navyug Shrestha's header following a cross from Bibek Basnet. Artem also denied Shrestha in the fourth minute.
Kyrgyzstan midfielder Abilov Ernaz struck against the woodwork in the 26th minute, while TAFC trio Navyug Shrestha, George Prince Karki and Tek Bahadur Budhathoki failed to reach a sublime cross from Bibek Basnet moments before the first half whistle.
Basnet muffed up a chance from inside the box two minutes into the second half, while Navyug Shrestha could not reach out to a ball half cleared by Kyrgyzstan defense line following a cross from Bibek Karki in the 52nd minute.
Shrestha came close to opening the score again in the 72nd minute but he failed to beat Artem in oneon-one situation. Santosh Tamang wasted an opportunity in the 82nd minute.
Nepal national football team skipper Kiran Kumar Limbu
---
A version of this article appears in the print on March 29, 2021, of The Himalayan Times.